Exactly how set up and also configuration VPS server?
Without going into technical details and peculiarities, a VPS server is a computer with Windows Server installed on it. But this computer is without a monitor and is somewhere far away from you, often in another country.
Using your computer via the Internet you are connected to the server, install programs, Forex advisors, put indicators on the charts and disconnect from the VPS. All installed advisors and programs continue their work. Regardless of whether your home PC is on or off.
Why do I need a VPS? I have a regular PC…
In general, if you are going to work with trading experts seriously, you can't do without VPS. There are a number of reasons for that:
Keeping a lot of running terminals on your home PC is just inconvenient.
You are insured against power outages.
Internet connection dropouts and interruptions won't bother you anymore.
You can safely use your normal computer without fear of restarts and excessive load on the hardware.
If your computer is used not only by you, but also by your children / parents / aunt / uncle, etc., then the work of advisors on the VPS server, they surely will not interfere
Where is the best place to order a VPS server?
There are many providers who offer VPS for rent. I personally use a server from chocoping
(not an advertisement). The recommended location of the server is London.
There is nothing complicated about the ordering process: you just choose the configuration you need on the official website, fill in the form with your data, pay for the order and soon you get the instructions on how to connect to your server.
When choosing a virtual server, you need to consider the features of different trading advisors installed on the VPS, and how they fit into your trading strategy. However, some parameters are more important:
Operating system. In case you need to rent as testing or permanent work of trading advisors, it will be better to pay attention to Windows. MetaTrader 4/5 works on this system;
The traffic volume. It is necessary to define the server application activity in advance. The traffic volume must be sufficient for high-quality and reliable work of the trading advisor for a long time;
The RAM, its size. This parameter affects the efficiency of the system. Higher requirements to the RAM size are presented in case of testing or using advisors in trading, when several deals are performed in a short time interval (scalping, pipsing);
Processor power. One more parameter, which influences on efficiency of server work;
Availability of a free testing period. It is necessary for acquaintance with the features and quality of the VPS server, the ability to perform certain actions and tasks;
Dedicated IP-address. It is desirable to provide a dedicated IP-address. Then your VPS will not slow down and glitch because of other users, who are with you on the same IP and your IP will not be blocked by the broker because of other users. But, of course, it may be more expensive for the price;
Low ping. Choose a VPS server with minimal ping to your broker, otherwise slippage will still sometimes happen and the server fee in this case is unreasonable.
Also, pay attention to the number of trading terminals that the operator can connect simultaneously; the types of terminals (MT4, MT5), the uptime, the reliability level, the backup option, the availability of accessible, competent and responsive support service.
How to Connect to a Windows VPS ?
Microsoft Remote Desktop Connection (RDC)
Navigate to the Start menu and search for "remote desktop." You should find it on your PC
Next step :
Enter the IP address of your Windows server or Windows VPS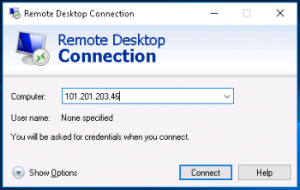 You will be prompted for the account username and password on the remote system.
That's it! If the login was successful, you will see the remote desktop opened in Remote Desktop Connection
How to upload files to the server?
First, any programs can simply be downloaded through the site where the necessary software is located. That is, just as you would do on your home computer.
Secondly, the necessary files can be uploaded to any file sharing site and then downloaded already on the server.
Third, files can be transferred directly from your home computer to the server.
Well, in conclusion, I want to mention one of the main factors:
Price. When you have checked all the points above, you can finally look at price. Once you have chosen a provider that meets all your requirements, you can use price as the final deciding factor. But don't use price as a starting point when choosing a forex VPS server provider – a cheap, low-quality service will end up costing you much more than you can save on such a VPS server.
I hope that now you know what a VPS server is, how to choose a VPS server for Forex and what to pay attention to while doing so.